Smok TFV12 Baby Prince
Fuera de stock
Impuestos incluidos
MOK TFV12 Baby Prince Tank es una versión mejorada del tanque TFV8 Baby  con capacidad de tanque de 2 ml. Viene con la nueva resistencia V8 baby -Q4, V8 baby-T12 y la bobina V8 Baby Mesh. 
TFV12 Baby Prince es la versión mejorada del ya conocido TFV8 baby best tank! Este nuevo tanque viene junto a las nuevas resistencias V8 baby -Q4 ,V8 baby-T12 red light y V8 Baby Mesh, con las cuales podrás conseguir nubes más densas y un sabor más puro manteniendo la potencia, lo cual hace que sea una mejora impresionante! Estas resistecias están recién diseñadas, entre ellas tendremos una resistencias que emitirá una luz cuando estés vapeando y la resistencia de malla tiene un área de calentamiento más amplia para acelerar el proceso de calentamiento. ¡La innovación sigue cambiando la experiencia de vapear!
Caracteristicas:
Tamaño: 53,7 x 23 mm (Edición TPD)
Capacidad de líquido: 2ml (Edición TPD)
Nuevas resistencias: V8 Baby-Q4 0.4ohm dual core (30-65W/Best 50-60W) / V8 Baby-T12 Red light 0.15ohm duodecuple core (50-90W/Best 60-80W) / V8
Baby Mesh 0.15ohm coil (40-80W/Best 60-70W)
Material: Acero inoxidable y Pyrex
Pin 510
Cobra Drip Tip
Rellenado de líquido por la parte superior con bloqueo de seguridad para niños
Flujo de aire inferior ajustable 
Incluye:
1x TFV12 Baby Price Tank
1x V8 Baby-Q4 0.4ohm Quadruple coil (pre-instalada)
1x V8 Baby-T12 Red light 0.15ohm Duodecuple coil
1x V8 Baby Mesh coil 0.15ohm
1x Manual
1x Bolsa con piezas de repuest
SPECIFICATIONS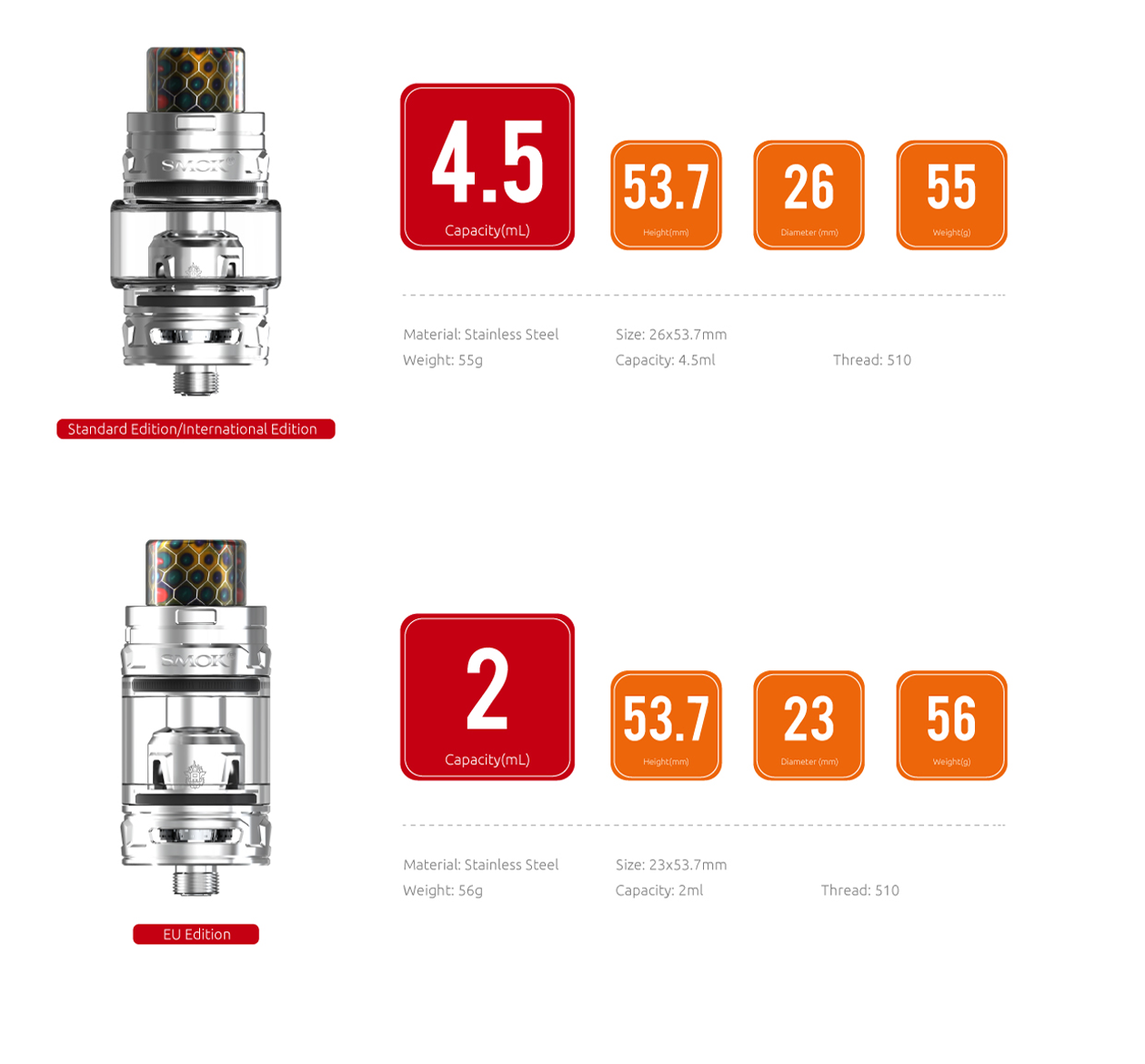 COMPONENTS

SPECIAL COBRA DRIP TIP
TFV12 Baby Prince tank employs Cobra drip tip, which has wild outlook and special tactility.
Besides, it will bring you increased airflow .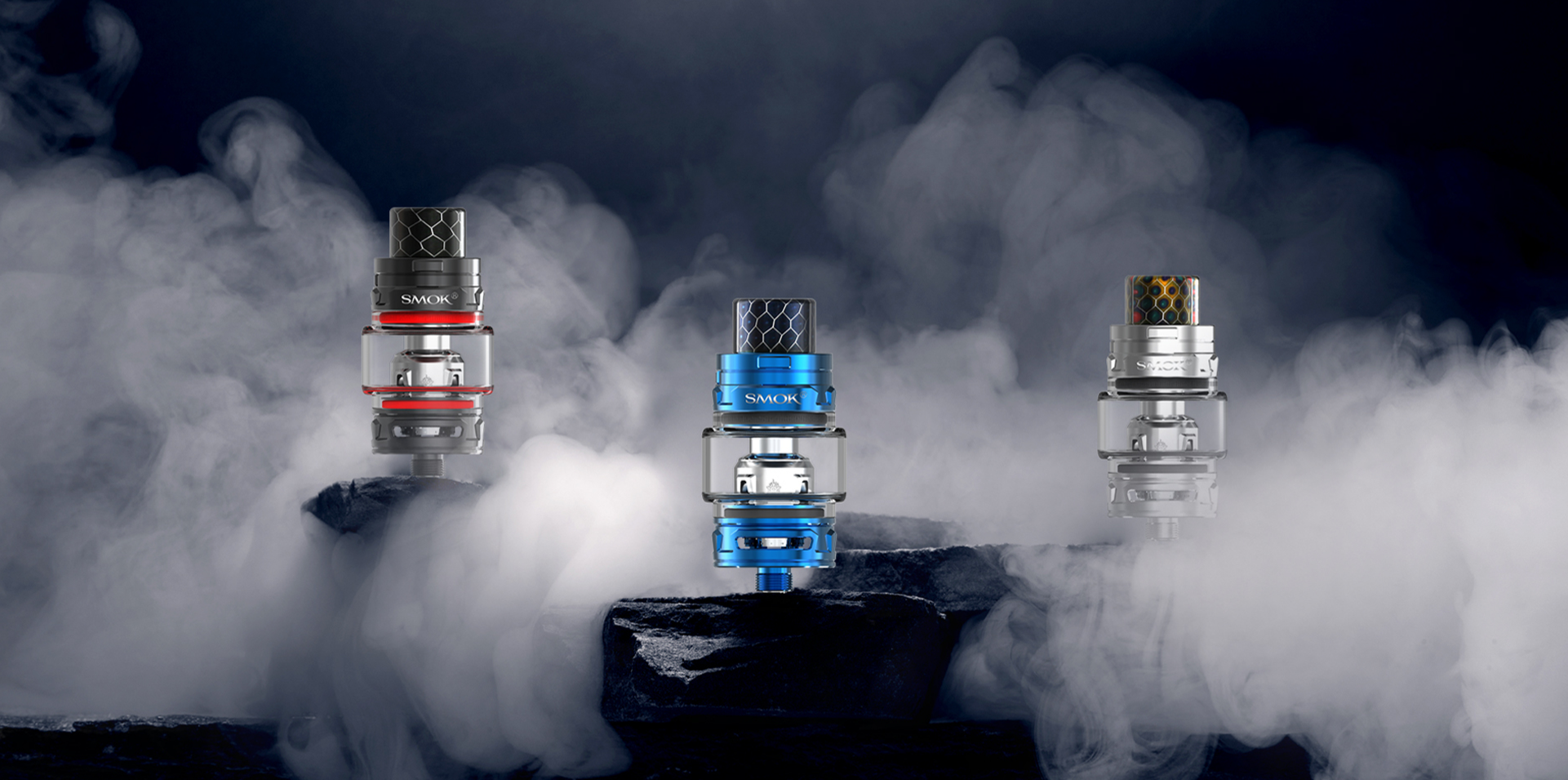 BULB GLASS TUBE
TFV12 Baby Prince employs convex glass tube--- Bulb Pyrex Glass Tube #4, which can effectively enlarge the e-juice capacity.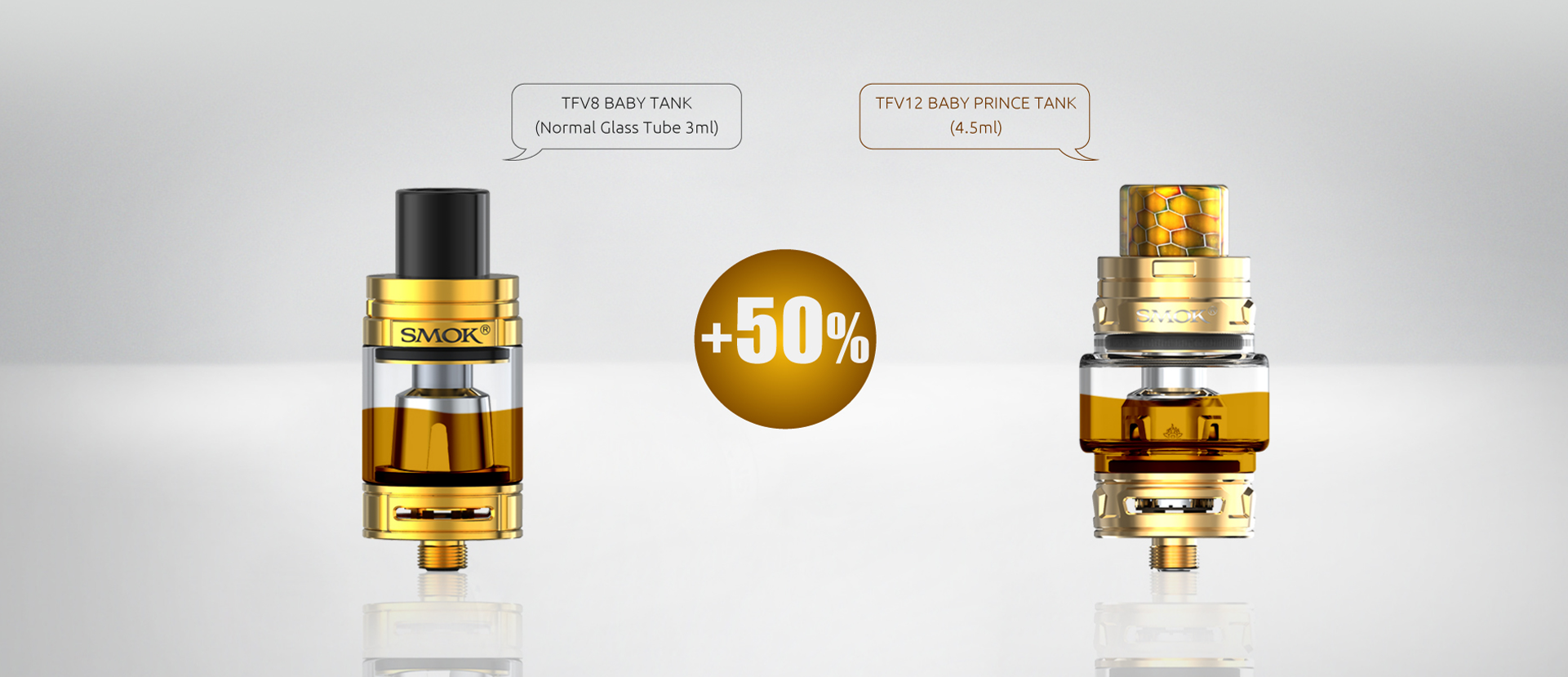 Cobra Drip Tip
TFV12 Baby Prince tank uses Cobra drip tip, which has wild outlook and special tactility. Besides, it will bring you increased airflow and powerful draw effects.
It suit for all the 510 connector.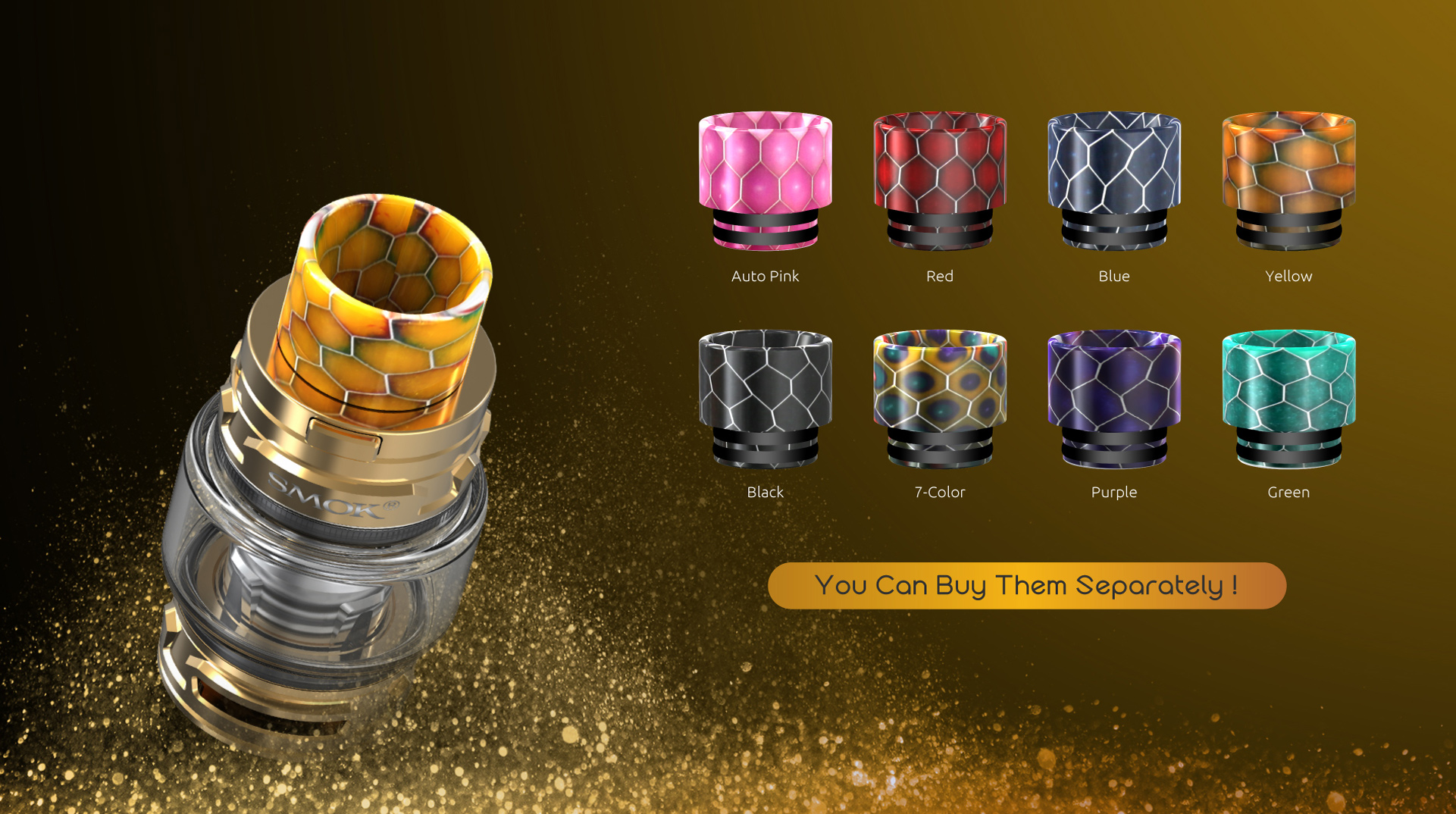 ACRYLIC DRIP TIP & BULB TUBE
Different from the traditional cylindrical drip tip , this new acrylic drip tip has radian on its body,making it more suitable to your mouth.
And the bulb acrylic tube has colorful and high-pellucidity appearance,
you can clearly see the e-juice through it. More importantly, we use high quality acrytic ,
which ensures non-toxic and high temperature resistance.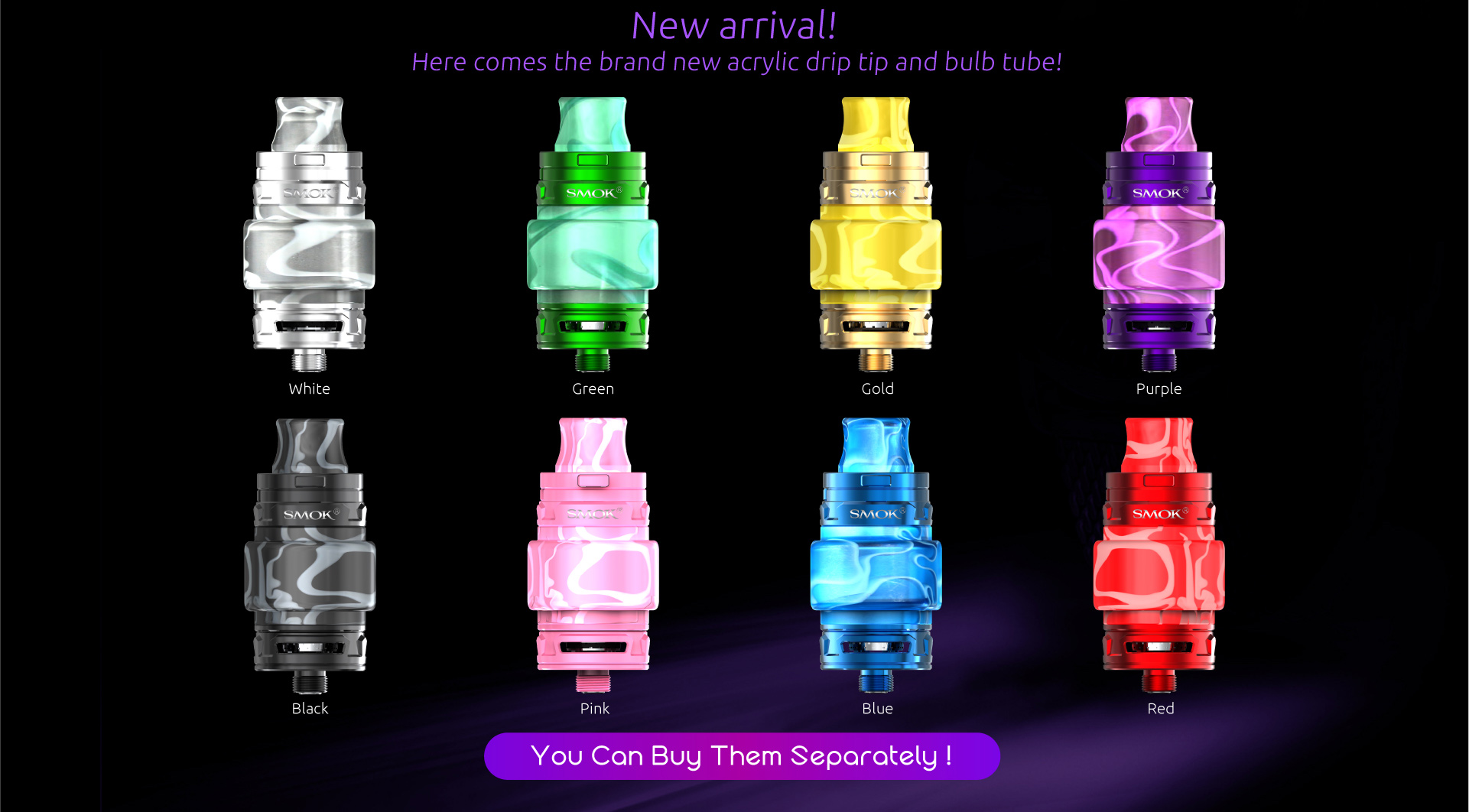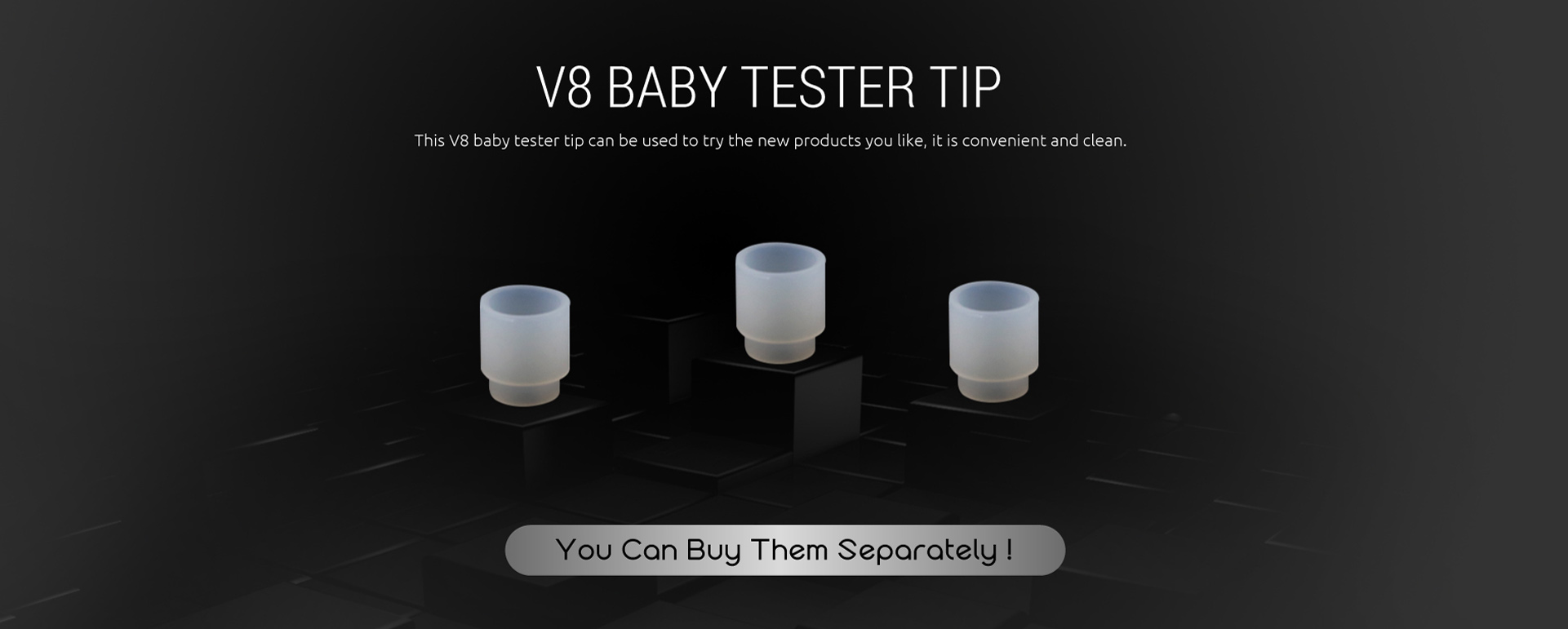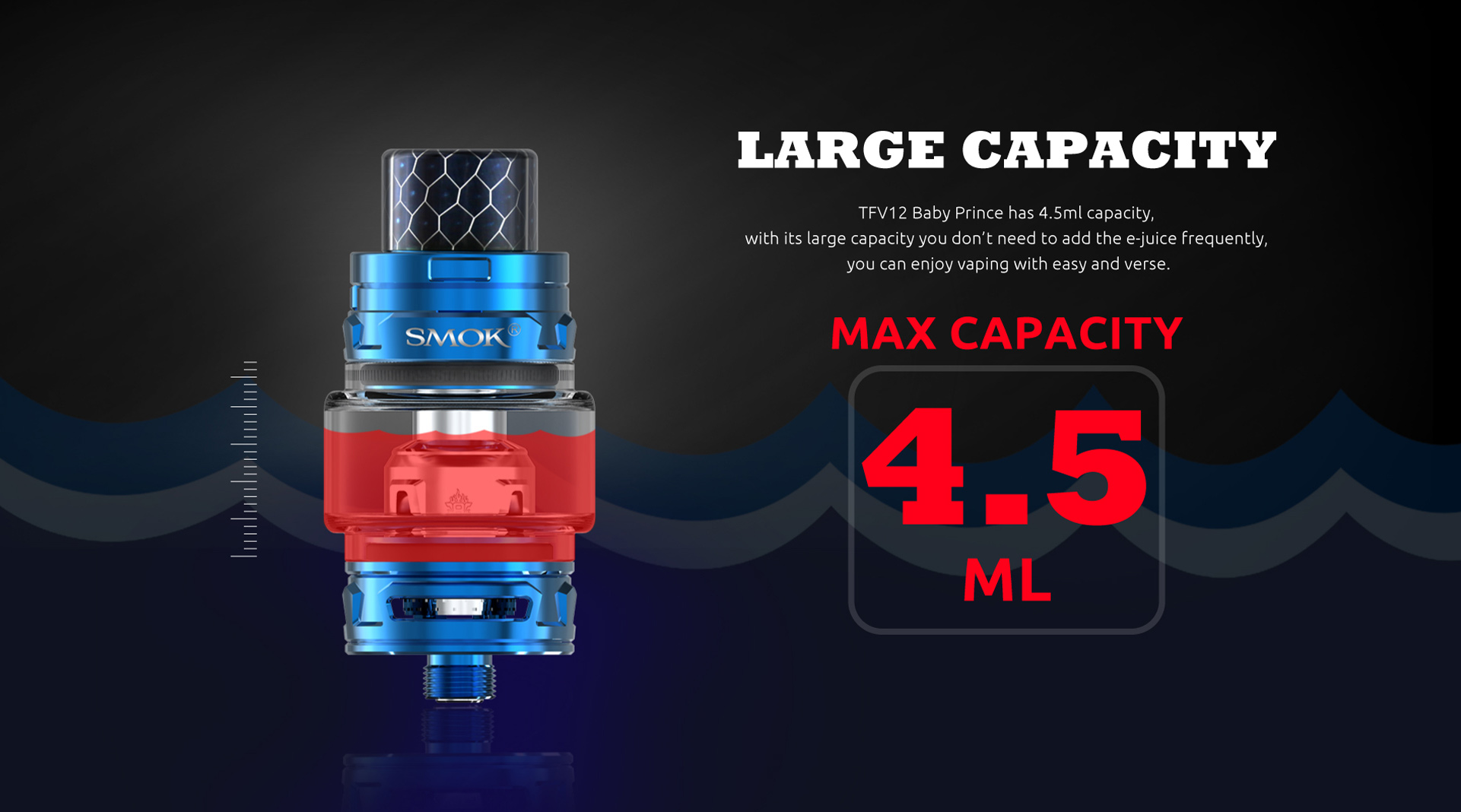 PATENTED LOCKING MECHANISM
TFV12 Baby Prince has a patented locking mechanism on its top cap, with simply press that little button you can open the cap.
Besides, this design can effectively avoid accidently opening of top cap and leaking of e-juice.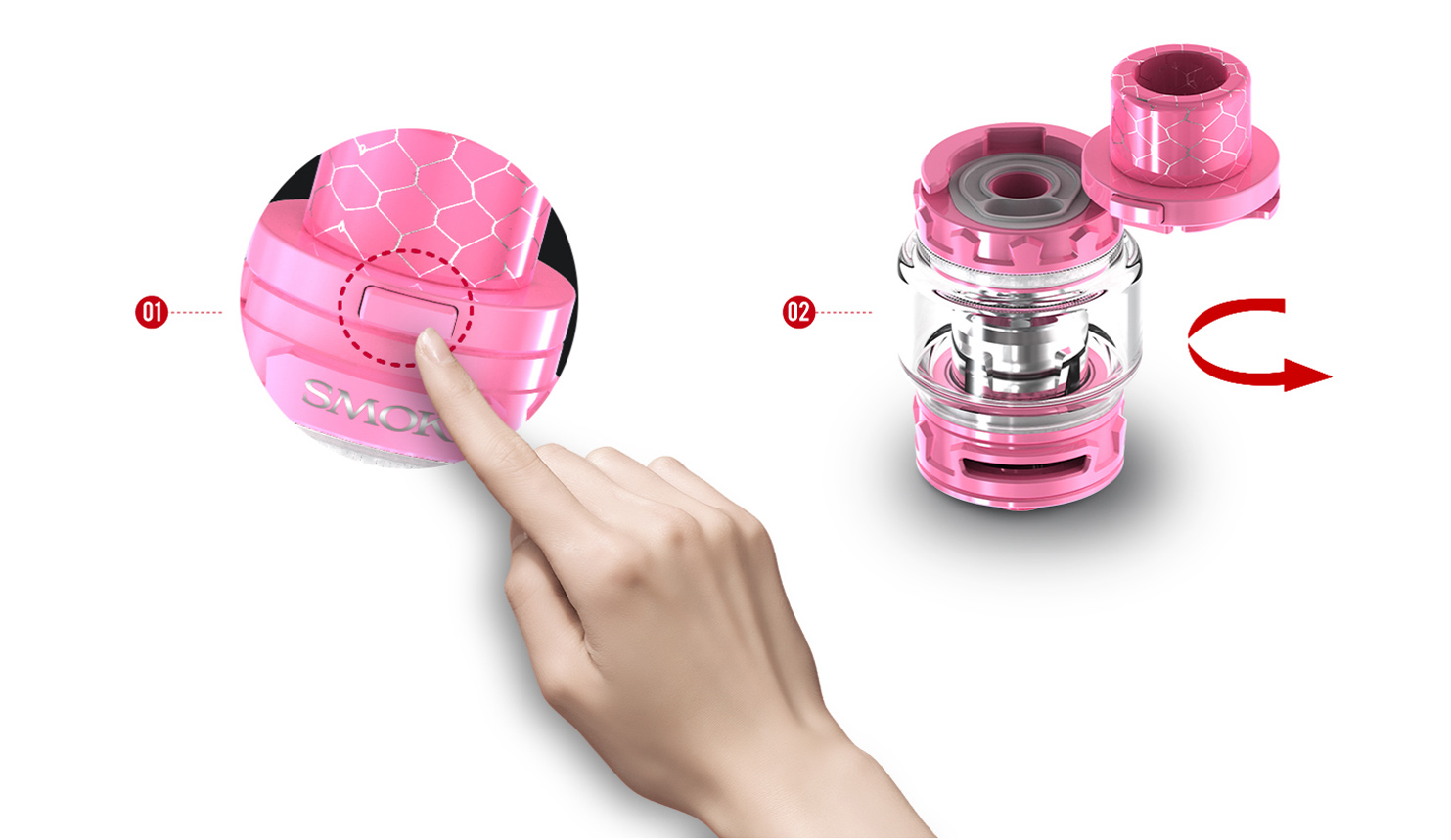 TOP-NOTCH MATERIAL
TFV12 Baby Prince tank is made of stainless steel and food-grade glass , both of which are glossy, durable and no harm to human body.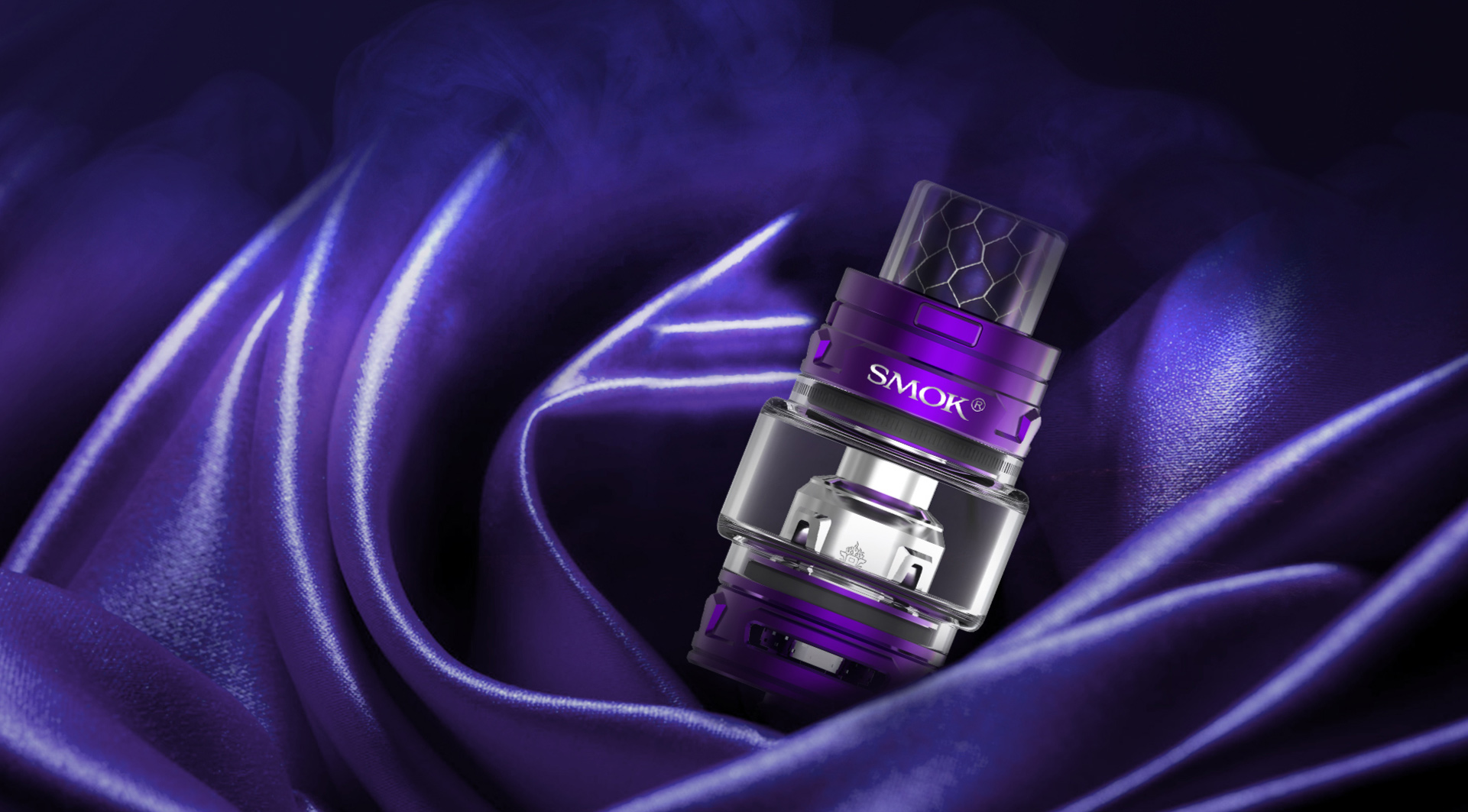 POWERFUL & SHINING COIL
We have newly designed several light coils, all of which are powerful and shining. 
The V8 Baby T12 red light coil is one of them, it has light inside, you can see beautiful light emit from it when you are vaping. 
Except the red light coil, there also are green light coil, orange light coil available.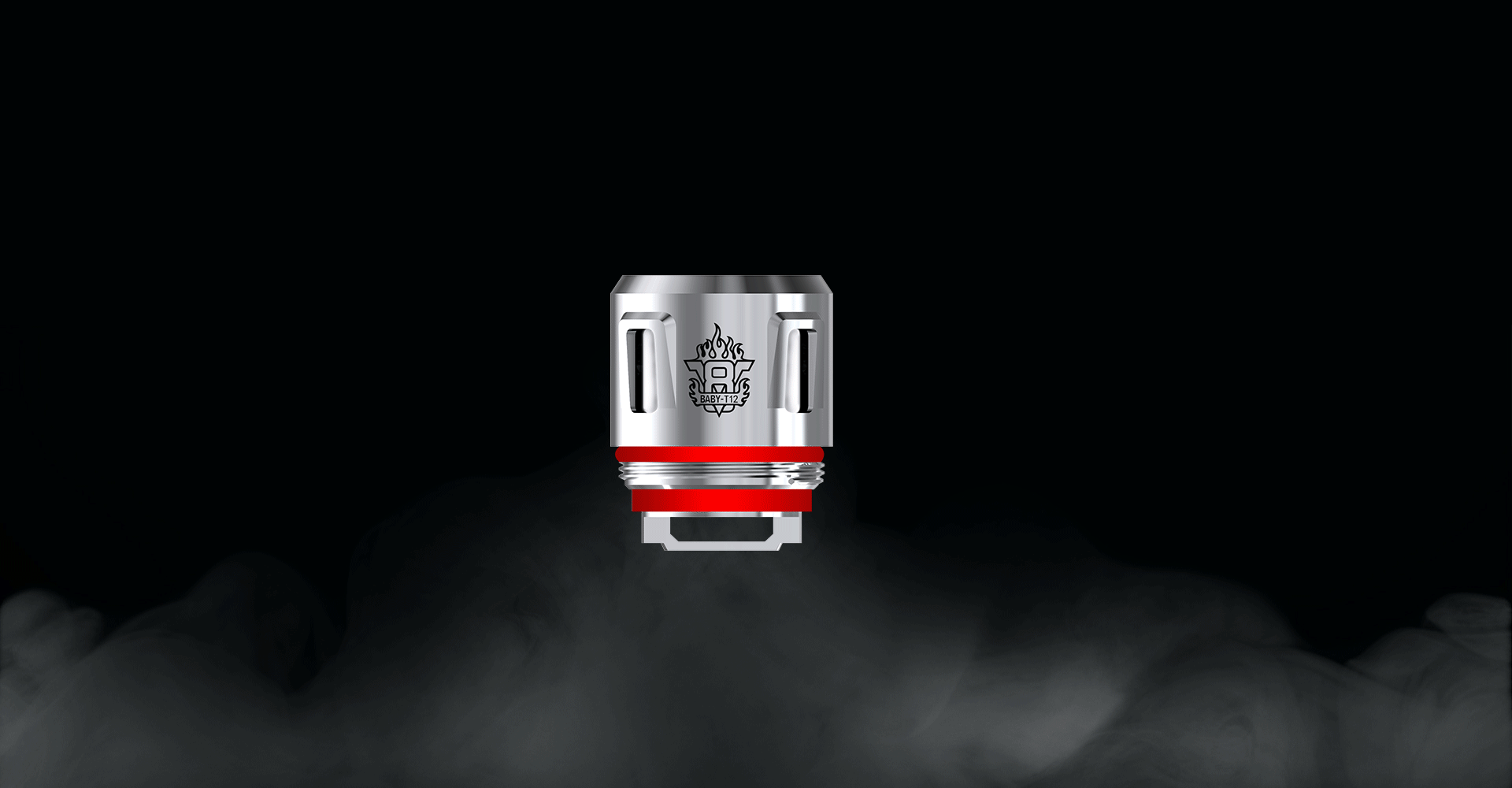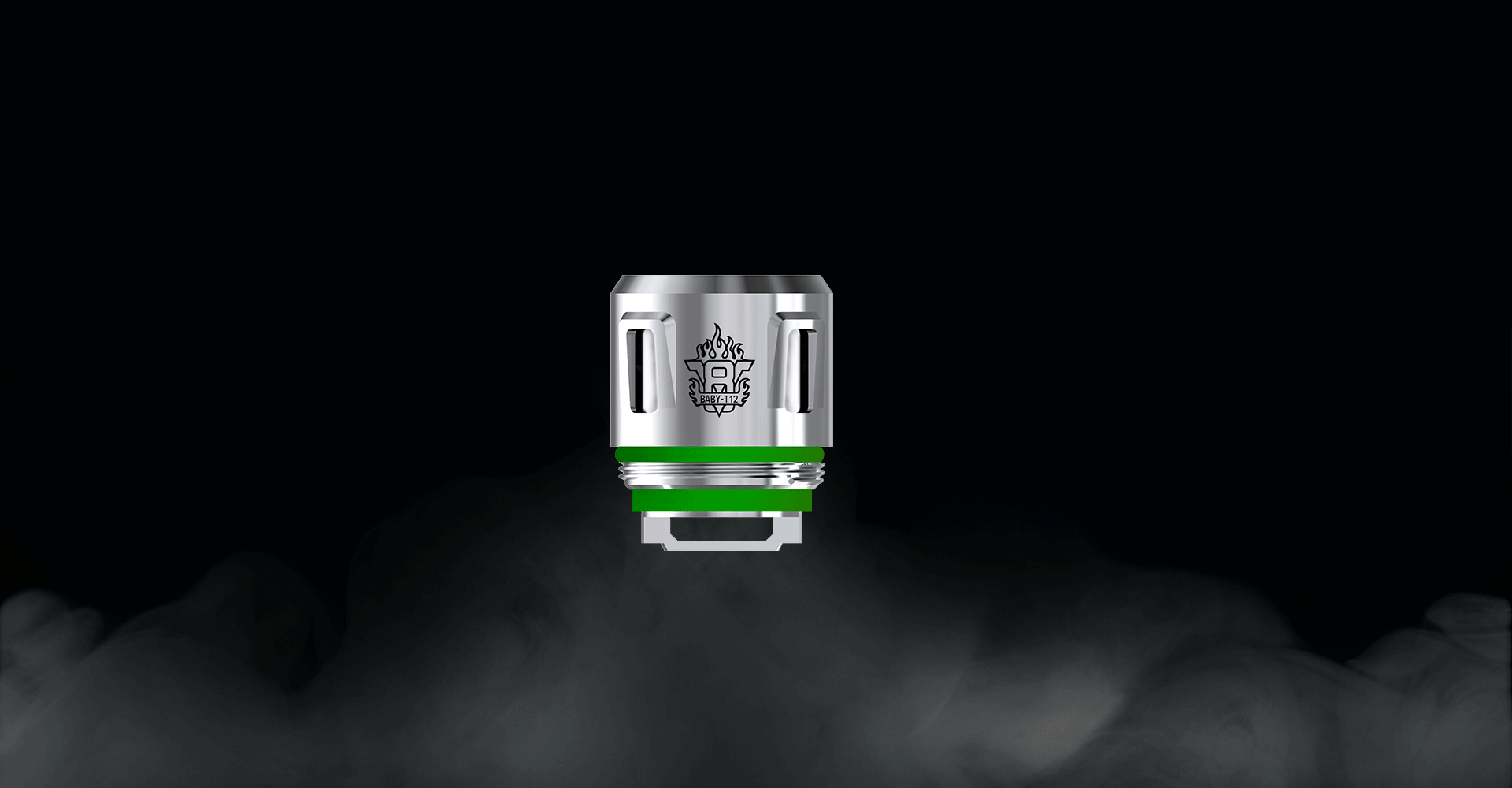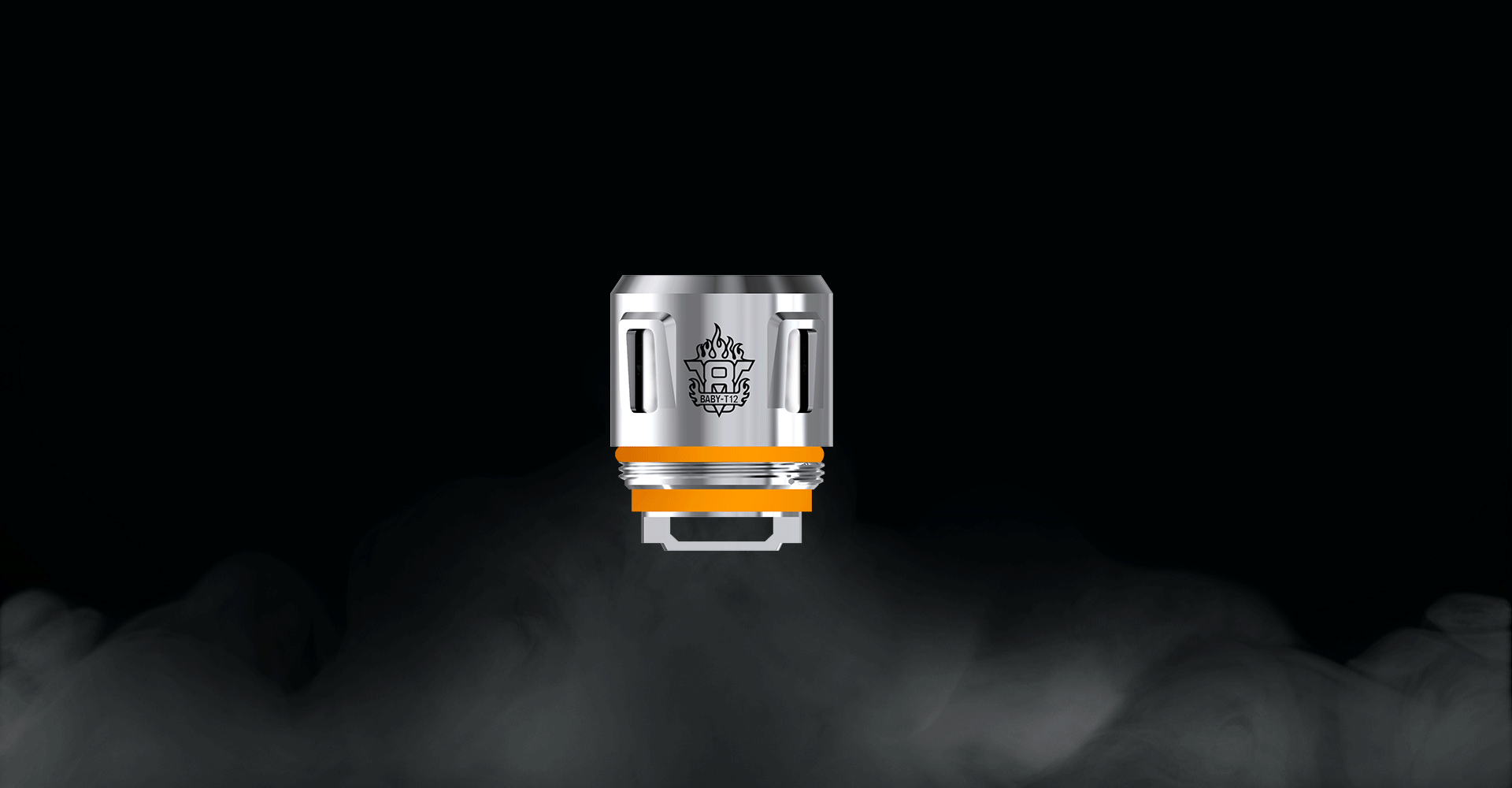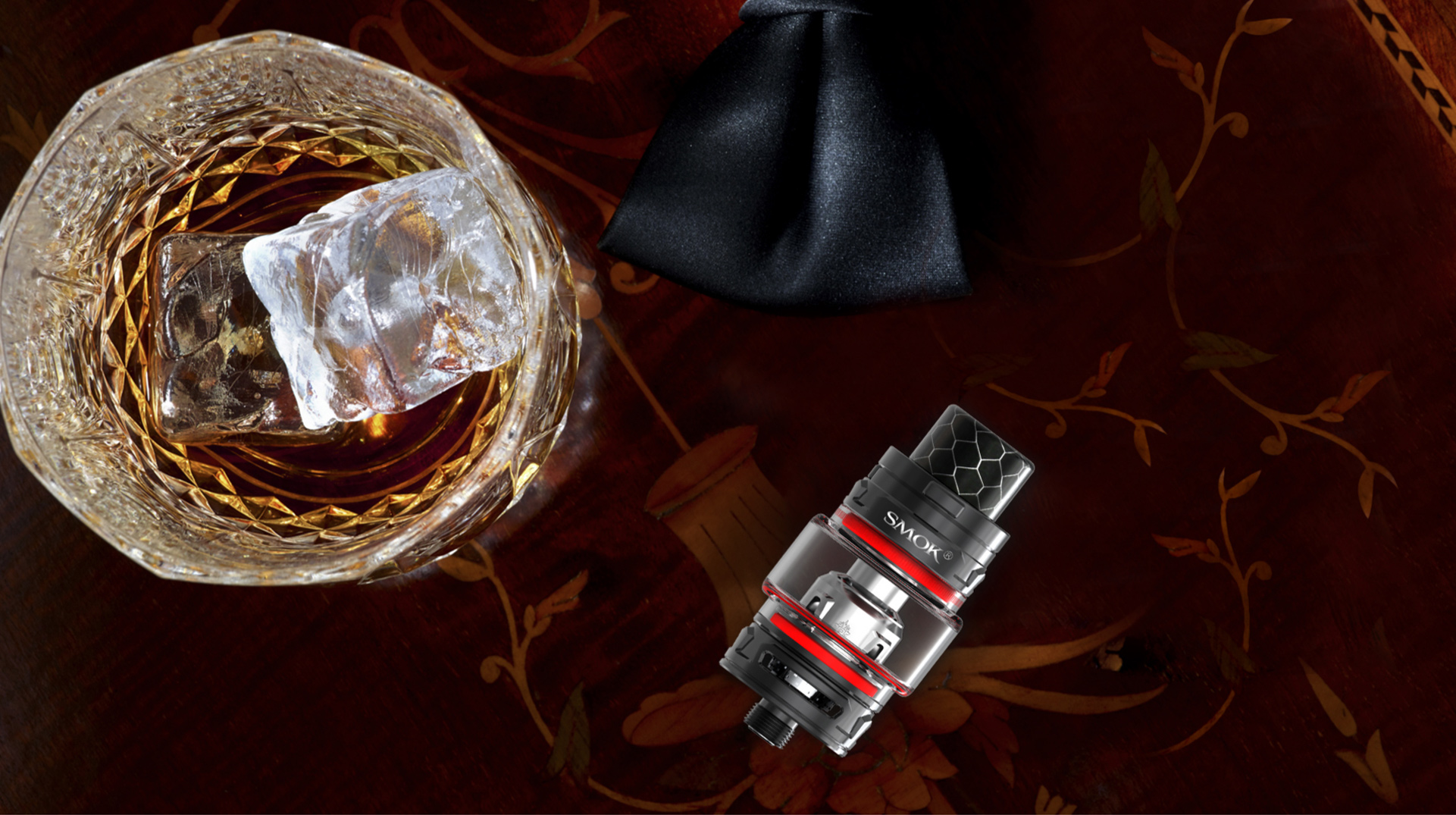 STRIP COIL
Strip coil is a fire-new revolutionary coil from SMOK, which is made of Kanthal.
We have innovatively developed the heating membrane unit, whose porous structure can bring great surface adsorption so as to fasten
the speed of e-juice absorption. It has larger heating area and radiation area, making the heating more evenly and helping the e-juice to heat up quickly.
Besides, it can also avoid the heat accumulation and the corrosion of heating materials. Compared with other traditional heating wires,
strip coil can easily load higher power. The large number of thin films formed in the porous has greatly improved the free energy of the surface.
On the combined effects of surface tension and van Edward force, it will activate numerous aromatic compounds in the e-juice
to achieve both large cloud and dense flavor, bringing an unprecedented vaping experience.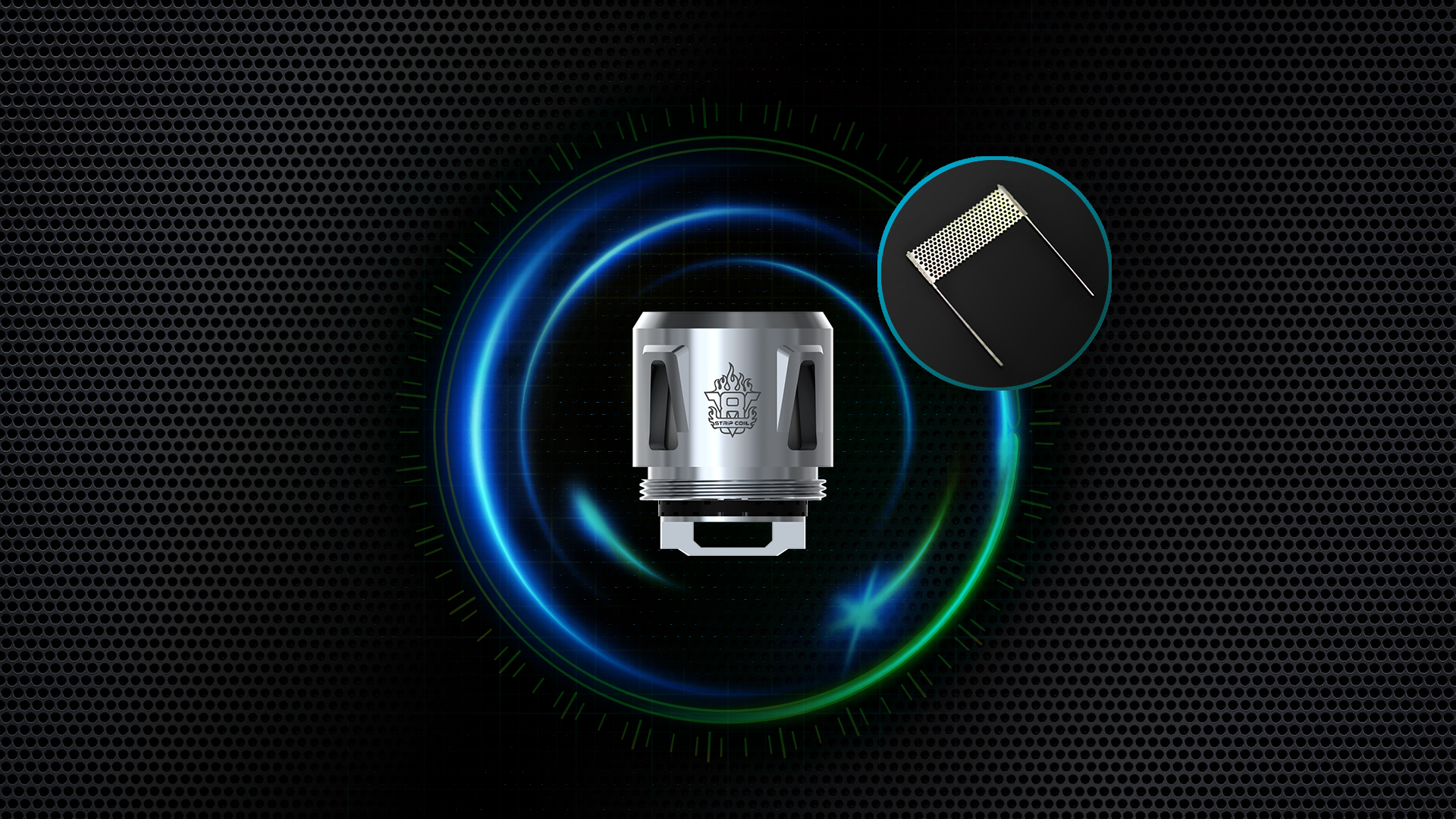 MESH COIL
Mesh coil is a revolutionary new coil, an advanced one in this industry. It has mesh inside, which can effectively enlarge the heating area.
When you use this coil you would be surprised by its fast heating process and huge vapor production.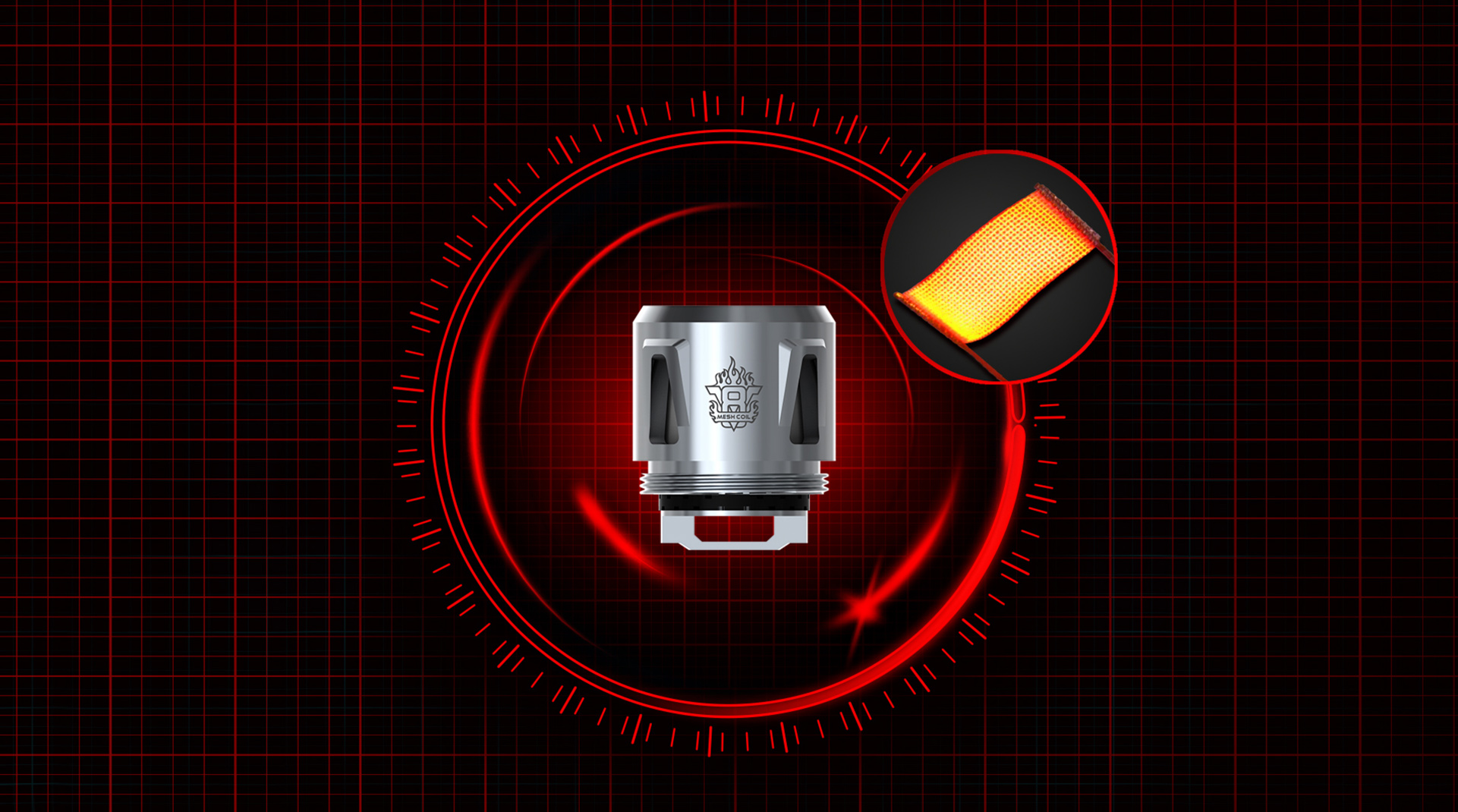 TFV8 BABY BEAST NEW COILS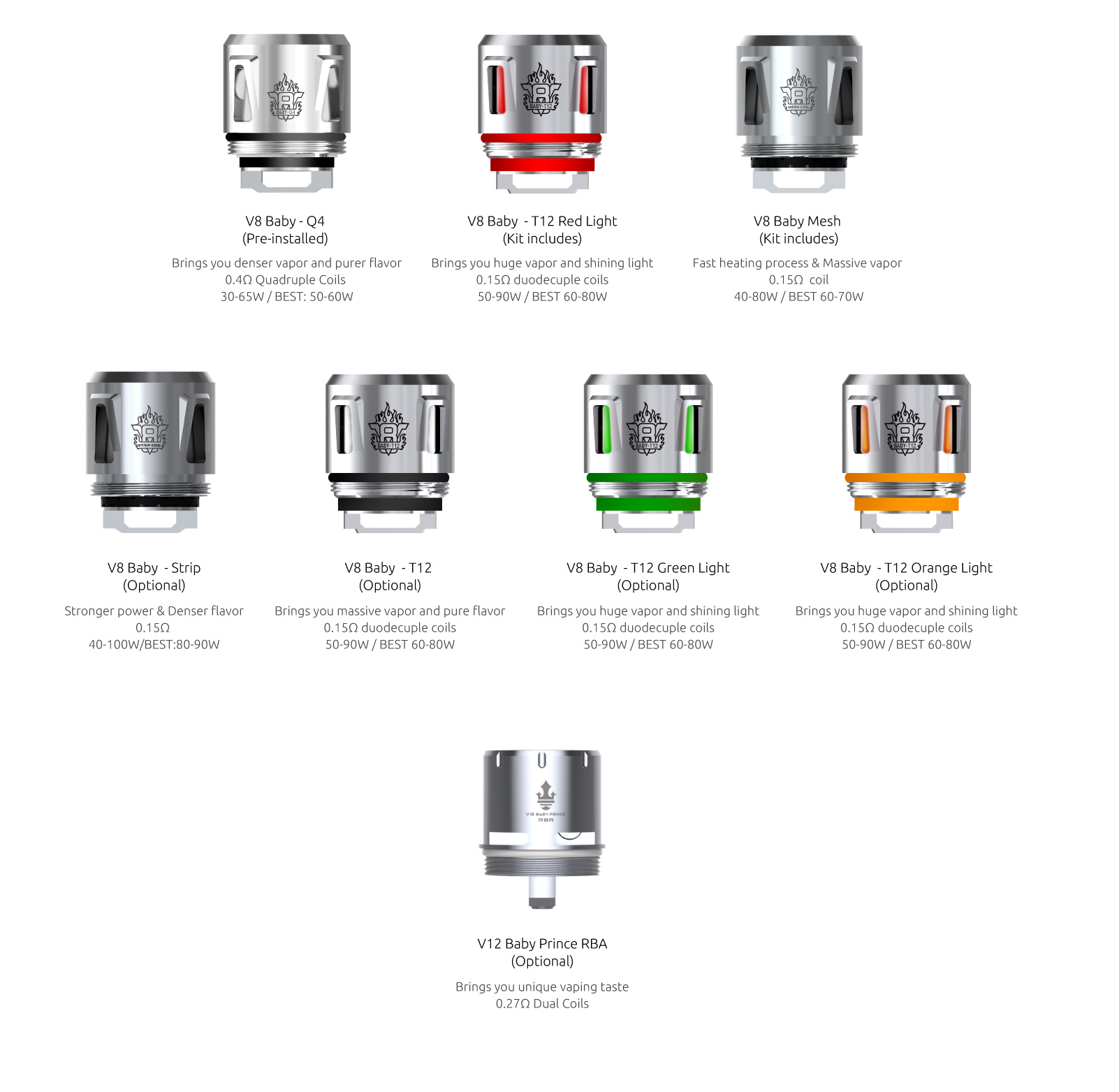 TOP REFILL SYSTEM
Top rotary refill makes filling a easy thing. Leak proof slot ca n significantly solve leaking problem.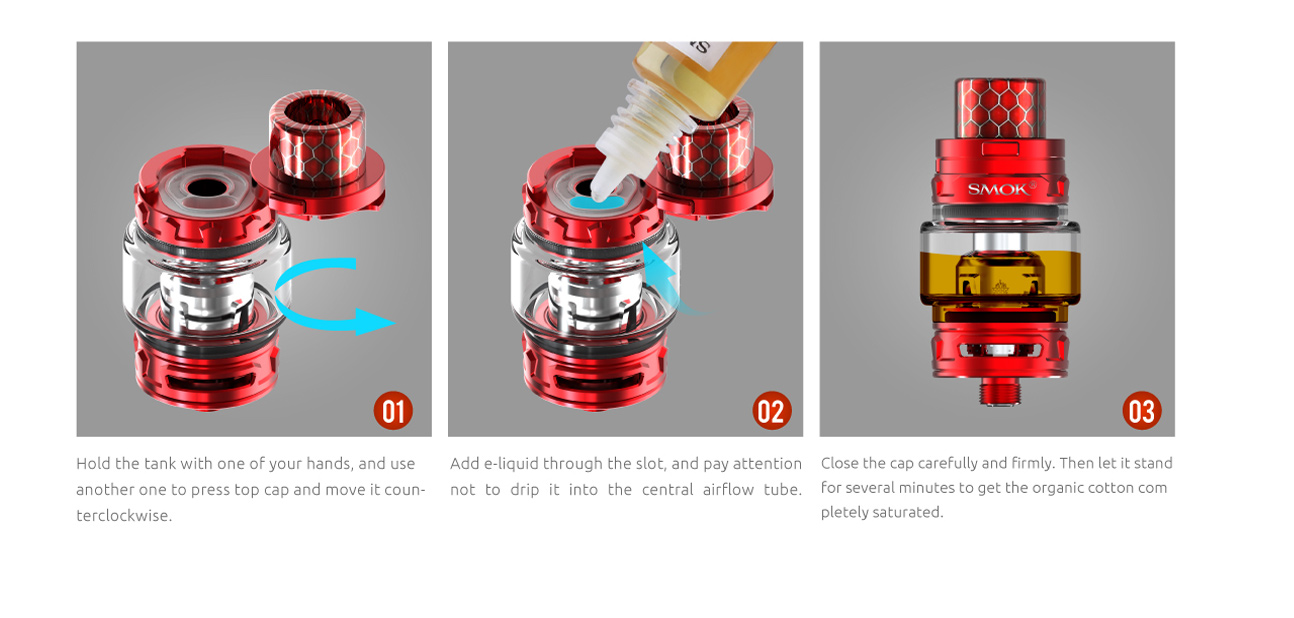 HOW TO BUILD THE RBA